Conference of Court Public Information Officers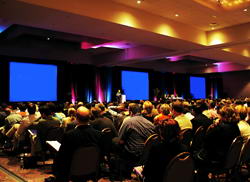 The objective of the Conference is to provide a focal point to improve the skill and knowledge required of those performing the duties of court public information officer.
The organization accomplishes this goal through conferences, seminars, professional development and educational programs.
It also promotes and improves the contribution of the court public information officer within the judicial system, and serves as a forum for the discussion of problems and successes inherent in the mission of the court PlO.
The work of the Conference is in concert with the goals and objectives of the Conference of Chief Justices, the Conference of State Court Administrators, the National Center for State Courts, and other court-related groups, as deemed appropriate by the membership.
Who We Are and What We Do
Court public relations and communications professionals formed an association designed to facilitate the exchange of successful programs, sharing of resources, and the opportunity for professional development for local, state, national and international members. The National Conference of Court Public Information Officers elected officers at the November 2000 meeting held in Orlando, and the association was created.
The Conference formalizes the educational opportunities made available to court public relations and communications professionals, known as public information officers (PIOs), through annual conferences and committee work. It was the vision of the late Toni House, a U.S. Supreme Court PIO, that the effectiveness of PIOs from state and federal courts would be enhanced by interactions with one another. In 1991, Toni secured grant funding for the first conference, held in Washington, DC. Toni began by collaborating with Tom Hodson, a former journalist who attended law school and later became an Ohio trial court judge. He returned to private practice, and recently was appointed Dean of the School of Journalism at Ohio University. Tom continues to serve as a consultant to the PIO Conference.
Initially, court leaders hired PIOs to focus primarily on media relations to improve the accuracy of news coverage and to promote the education of the public on important legal issues and concepts. Today, these public relations professionals are responsible for activities involving public education, community outreach, legislative/government relations, communications, etc., in addition to media relations.
Although the areas of responsibility vary from court to court, PIOs generally face the same issues. Conference membership permits PIOs to make use of an Internet listserv where problems and solutions are exchanged on a daily basis.